Rate this article and enter to win
Delivering chicken soup to your roommate who's been throwing up? Sitting in a lecture hall with a coughing classmate? Wondering why you're under pressure to get a flu shot? College living offers frequent reminders that sometimes it's not cool to go viral. Most of us think we know how to avoid common infections, or at least minimize our chances of catching that cold or stomach bug. Even so, at SH101, we learned a few things developing this quiz, and we figure you'll learn a few things taking it.
Here's why common infections matter. Given the intensity and pace of a school semester, getting sick can leave its mark—and not a good one. In a 2015 survey of more than 19,000 undergraduates, one in three of those who had experienced a cold, flu, or sore throat in the last 12 months said it had hurt them academically (in most cases, a lower grade for an exam or course, according to the National College Health Assessment). That's in addition to the serious health complications that can sometimes arise from commonplace illnesses, even in otherwise healthy people.
1. What's the best way to sneeze or cough?
| | Into your printed assignment for good luck |
| --- | --- |
| | Into your elbow or upper sleeve |
| | Into your hands |
| | Into a cough-catcher |
| | Into a tissue |
| | Letting it go free and loud in the dining hall in order to release your chi and om |
Click for the answer
2. What's that pain you're feeling?
You're unusually tired but pushing through. Now you're getting a sharp pain in the left of your abdomen. What condition might cause this?
| | Appendicitis |
| --- | --- |
| | Mononucleosis (mono) |
| | Bad karma |
| | Norovirus |
Click for the answer
3. Think you know how to wash up?
Conscientious hand washing is key to avoiding some common infections. What's the most effective way to wash your hands?
| | Using hand sanitizer containing at least 60 percent alcohol |
| --- | --- |
| | With running water and soap while singing three verses of Beyoncé's "Fever" |
| | In the saliva of an ovulating unicorn by the light of a crescent moon |
| | It's more about the drying than the washing |
Click for the answer
4. Which of these does not give you significant protection from the flu?
| | Hand washing |
| --- | --- |
| | A healthy lifestyle (good nutrition, sleep, and physical activity) |
| | Vitamin supplements |
| | Organic snail venom |
Click for the answer
5. Match the pathogen images to the diseases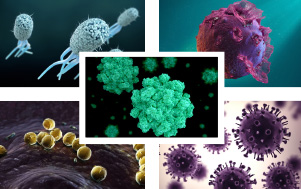 | | Mononucleosis (mono) |
| --- | --- |
| | Influenza (flu) |
| | Strep throat |
| | Urinary tract infection (UTI) |
| | Norovirus |
Click for the answers
6. Can you keep your stomach from turning?
The norovirus causes diarrhea, vomiting, and stomach pain. It is responsible for outbreaks in places where people hang out together waiting for something exciting to happen, such as residence halls, cruise ships, and political party conventions. Can you correctly answer these yes/no questions about the gut-wrenching norovirus?
| | Disinfecting wipes do not kill the norovirus—yes or no? |
| --- | --- |
| | Most disease outbreaks related to contaminated foods are caused by food workers infected with the norovirus—yes or no? |
| | Each gram of diarrhea from an infected person contains 5 billion particles of norovirus—yes or no? |
| | Being exposed to only 20 viral particles is enough to make someone sick—yes or no? |
| | Norovirus is named for a northern English scientist who initially believed the cause was bacterial: In his dialect, "not a virus" sounds like "norravirus"—yes or no? |
Click for the answer
Your video is loading
Article sources